Dear Impact Partner,
We are genuinely grateful for your unreserved support without which we would have not been able to make the undeniable impact you have trusted us to make.
Here is a brief recap of how our year went:
This year we decided to focus on a part of the African society that, if not paid attention to, might get left behind in the ongoing techvolution. So we decided on another demographic … Mothers.
We were glad to discover that one mother, Aghama Jesurobo, had taken the initiative to teach mothers in Africa how to code and thereby empowering them to successfully pivot in their careers, be their own bosses and even begin their own startups! Isn't that absolutely brilliant?
So we partnered with her organization, Mums Who Code, and funded the education of over 400 women in Africa! Can you believe it? No? See for yourself.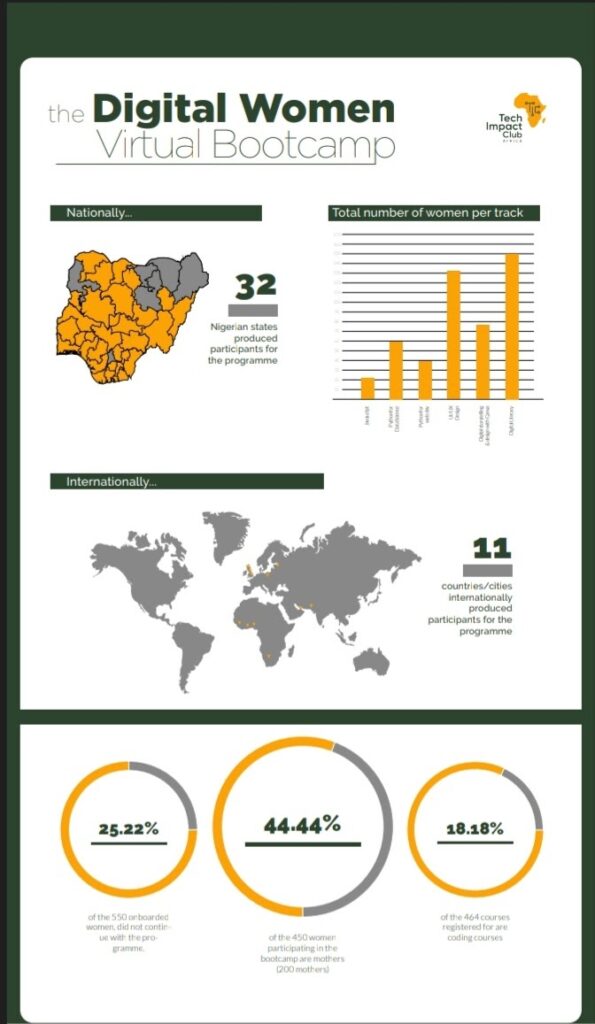 At the end of the Digital Womens Bootcamp 2021, each participant had their own portfolio of work including apps developed, designs created and some took it a step further by getting into international fellowships for more training.
The success of the first cohort has led us to funding the second cohort as well, afterall what's better than one good project? Two.
Incorporation
This year we also, finally, made this official. Tech Impact Club Africa now operates as a legal entity in Nigeria called the Tech For Development Initiative. If you are like many of our friends you are probably wondering does this mean it is no more TIC Africa ? No. We are still known as TIC Africa, but our government name is Tech For Development Initiative.
If you are still finding it difficult to understand, think about how Father Christmas' government name is really Santa Claus but it is really the same person.
And that brings us to wishing you a very Merry Christmas and an impact-filled New Year.
Membership
Speaking of an impact-filled year, you should definitely be a part of the amazing work we are doing at TIC Africa. With you, we can do more wonderful work.
Are you wary of committing to yet another group and stretching your already thin personal time even thinner? Don't worry we have just the membership plan for you, designed not to take up any of your time. If your worry is not necessarily about time but how much financial commitment this takes, you can be sure that we have plans that work perfectly for you without breaking a sweat. And if you do not necessarily want to be a member but want to be able to support projects as a one-off donation, we have this option available too.
Just speak to whoever shared this with you or send a mail to techimpactclub@gmail.com and we will guide you from there.
Digital Footprints
We have also been able to engage the larger community on Twitter, Instagram and LinkedIn with the editorial pieces published on our website and with regular updates shared in our periodic newsletters.
If you are not already, please follow us on these platforms and subscribe to our newsletter.
We hope that we can continue to count on your support in the future. Thank you again for your faith in our ability to make positive change, we could not have done it without you! We look forward to making history with you again in 2022.
Stay Safe and Happy Holidays.
Sincerely,
Tech Impact Club Africa